Volunteer Calgary
Volunteer Calgary
Volunteer Calgary hosts special events and coordinates public relations activities that promote volunteerism in our community. To assist organizations increase their overall effectiveness, staff and volunteers of Volunteer Calgary provide training and consultation geared to the ever changing needs of today's nonprofit organizations. They deliver topical workshops, certificate programs in volunteer management, and consultation services in employee, retiree and family volunteerism.

Current Projects
Current Projects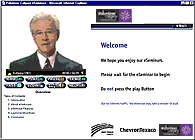 Planning for Effective Volunteer Programs
Link: http://www.ebridge.tv/volunteercalgary/
Learn how to build a strong foundation for your volunteer program, identify and recruit the right volunteers, and incorporate families into your volunteer structure.